MPM View Software Quick Start Guide
A Step by step guide to downloading and installing your Powervar Software easily and quickly
System Requirements
Supported OS: Windows XP, Windows 7, Windows 8 (Desktop mode*):
*MPM View is implemented as a Taskbar application for desktop environments.
Disk Requirements: 55MB minimum, 75MB typical (data/event logs default to 10MB limit each – max size can be configured by user.
MPM Device Communications: Via USB
CIO MPM Fleetview (Server Application) Requirements:
Supported OS: Windows Server Class OS (Win 2k, 2k3, 2k8)
Server clas 32-bit x86 (Intel compatible) computer (or equivalent VM)
1GHz CPU
1GB RAM
Ethernet network adapter
Disk Requirement: 60MB
------------------------------------------------------------------------------------------------------
About MPM View: ClinicView and Tech View are two views of the information collected and logged by the MPM View monitoring program that installs on the cart computer.
ClinicView – provides a simple and accessible view of time remaining in the battery in the cart. ClinicView is for users of PC workstations on carts.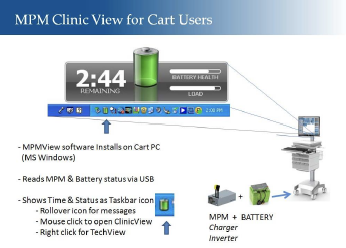 Tech View – provides a view of specific alarms, event and data histories, and allows configuration of cart identity information and the cart power system. The information available in Tech View is most useful for technicians and cart servicers.
Quick Start
Make sure your cart workstation USB port is connected to the USB port on the MPM power unit installed in your cart.
Download MPM View install package, and save it to the workstation desktop (or other convenient location):

You will be prompted to login. Enter as new user (enter you email address and password).


Double click the MPM View installer icon (circled) to start the install. MPM View will automatically detect the MPM power unit attached to the PC workstation USB port.


CLINIC VIEW
When MPM View software is installed on a PC workstation connected to an MPM power unit, a small battery icon will appear in the taskbar as shown below by the arrow.

taskbar icon for MPM View
The taskbar icon can reflect four possible states: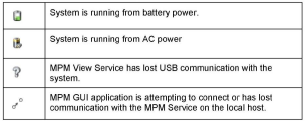 The taskbar application provides system status and "fuel gauge" with estimated clock time remaining from the battery. Rollover the taskbar icon (see arrow) to view the status message: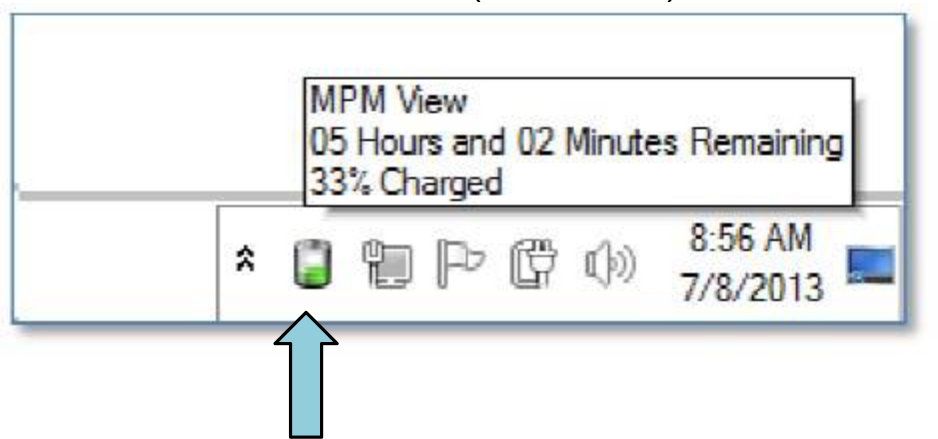 MPM View Software Quick Start Guide Continued
Click the taskbar icon to open the "ClinicView" dashboard.

The estimated time reported will adjust up or down, based on the actual electrical load of your workstation.
When your PC is running in energy saving mode, the estimated time available will increase. When your PC is running in full power mode, the estimated time available will decrease
Right-click the taskbar icon to Quit the taskbar application or to open the Tech View user interface.