Over time, the cable inside of the cartridge may slip out of a holding channel inside of the cartridge. To slip the cable back into the channel and to make sure it does not happen again, follow the steps below.
1. Raise the work surface of the cart to its highest position. Look at the cartridge and find the brake cable located inside and at the top of the cartridge (figure 1).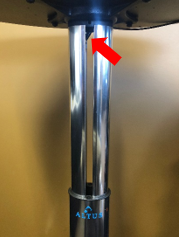 Figure 1. Location of brake cable
2. The cable will need to be temporarily "pulled" upwards and to the side of the cartridge. Pull the cable with a considerable amount of force towards the upper corner, using your fingers or a screwdriver (figure 2). A "click" may or may not be felt.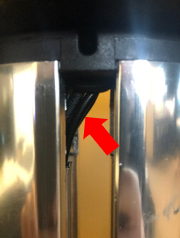 Figure 2. Direction to pull brake cable
3. Once the cable is pulled, try the paddle handle once again. If the cart works, advance to step 4. If the cart does not work, contact Altus.
4. In the same general area as step 3, the cable is held in place by a channel (figure 3). To make sure that this does not happen again, the top of this slot needs to be "pinched shut". Take the edge of the screwdriver, or punch, and place it on one side of this channel (figure 4). Hit the end of the screwdriver, or punch, with the hammer gently. Switch from the front of the channel to the back of the channel over and over until the top is "pinched shut" (figure 5). This will prevent the issue discovered in step 3 from occurring again.
| | | |
| --- | --- | --- |
| | | |
| Figure 3. Channel that holds the brake cable | Figure 4. Screwdriver placed on side of channel | Figure 5. The channel pinched shut |